Craft Beer News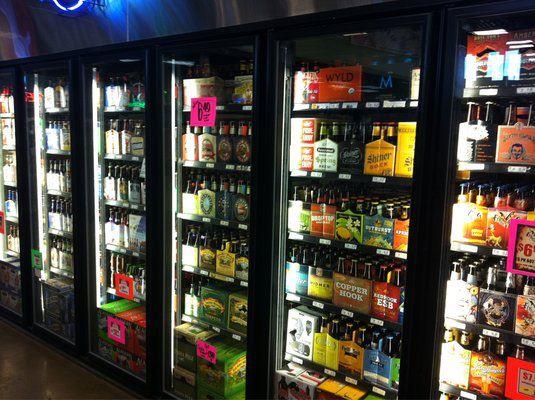 A conversation with Dan Chacon.
Beer Buyer for Argonaut Wine & Liquor in Denver
What's new in craft beer?
Brewers and breweries in 2015 have definitely embraced the session ale and sour beer categories. A perfect example of this are the many Berliner Weisse and Gose beers that are being produced. Both of these styles are low in alcohol and mildly sour. And many breweries are adding fruits, flowers, herbs and many other adjuncts to help accentuate these light, crisp and tart flavors. Another similar style rising in popularity is the Radler which infuses lighter wheat based beers with different types of fruit juices. These are also lower in alcohol, crisp and refreshing. We'll see a definite rise in popularity among these styles during the hotter months of summer!

Aside from the standard true to style sour beers, brewers have been experimenting with adding the bacteria and yeasts that create these characteristics in them to other styles of beers. We are starting to see brewers incorporate the use of Brettanomyces, Lactobacillius and Pediococcus to a variety of other styles of beers from IPA's to stouts and even other Belgian styles. This is putting a unique and creative spin on these beers that cannot be accomplished in any other way. And it is keeping things interesting in a world where every brewery has an IPA in its line-up.

Another growing trend in the beer world are the experimental hop and single hop beers. These beers, as you would guess by the name, focus on the particular characteristics of the featured hop in the beer. Different hop varieties accentuate different flavor profiles, aromas, acidity levels and bitterness in a beer. As people become more and more involved in the complexities of craft beers, as does their interest in what attributes to them. These types of beers are perfect for showcasing what the different varieties of hops can lend to a beers profile.

Avid craft beer drinkers are constantly looking for new beers that both challenge their palate and redefine what a beer can be. Because of this, brewers are constantly playing with different ingredients that can create a unique and interesting drinking experience for the beer drinker. They have been known to put everything from herbs and flowers, baking spices and peppers, chocolates and other candies and even doughnuts into a beer. You name it, and chances are a brewer somewhere has used it in a recipe. This helps keep the ever changing and evolving beer culture new and interesting. And gives the beer drinker something new and exciting to try all of the time.

And last but not least in craft beer trends, is the ever more popular craft brewed pilsners and lagers. These traditionally brewed styles are the most brewed, accounting for probably 90% of the beer produced in the world. These styles have been downplayed a lot in the beer world thanks to the many "mass produced", watered down, or low quality versions that are seen very frequently. But craft brewers are taking these styles back and producing higher quality full flavored examples of these beers that are more true to the old world beers of the past. Many craft brewers pride themselves in being able to produce a high quality pilsner or lager because they take the longest and are typically the hardest to brew. This being because of the fact that they are beer in its simplest form making it much easier to pick out imperfections.

The beer world is definitely at the most interesting and exciting time period that it has ever been in! What will be the next big "trend" in the brewing world? The possibilities have yet to hit a capping point so we will have to watch and see!
How did you become so knowledgeable about beer?
I first became interested in beer about 14 years ago, with my discovery of the craft beer movement. Before that, I wasn't much of a beer fan at all because I didn't enjoy the mass produced American lagers in the market. Basically, I went online and researched different beers and the culture surrounding them and of course, I ended up trying many of them.
How involved is Colorado in the craft beer market?
Actually, Colorado was one of the first states to get into craft beer and has helped lead the way in this quickly evolving industry. Today, we are ranked #3 in the nation, with more than 160 Colorado breweries, and more than 80 planning to open in the near future (there are approximately 2,400 nationwide). Some of the originators include Boulder Beer, Wynkoop Brewery (formerly owned by our own Governor, John Hickenlooper), Avery and New Belgium.
What distinguishes a craft-beer from regular beer?
It is called a craft beer because the brewers really take the time to craft and brew the beers, and they view the process as an art form. There is plenty of creativity and brewers are always trying new methods and ingredients to come up with new and better beers. They also only use quality ingredients and use adjuncts to enhance or change the flavor, rather than as fillers.
Read more about craft beer and Microbrewery
How big is the craft-beer market?
Craft beer sales on the national level were up 17.6% and made up 11% of the total market share. At Argonaut for 2015 craft beer was 45.9% of our total beer sales for the year.
Why are so many craft beers sold in cans?
Quite simply, the use of cans preserves the integrity of the beer better. There is less oxidation because cans seal better than bottles and no UV light hits the beer (which harms it and changes the compounds of the beer). Also, the newer cans have a special lining so there is no metallic taste. Cans are better for the environment and in an outdoorsy state like ours, they're much easier to transport. Oskar Blues in Lyons and Longmont along with Ska Brewing in Durango were the first to package craft beer in cans.
Which are your personal favorites?
Bourbon barrel aged imperial stouts are my favorite. They are full flavored, rich, dark and malty. And after brewing, the beer is put into whiskey barrels, which imparts the flavors of the oak and whiskey into the beer. I also am a big fan of Belgian Sours (these were traditionally brewed in open vats to create spontaneous wild fermentation). The wild yeast strains and aging of the beers give them a sour, tart and funky flavor profile. I highly recommend trying New Belgium's La Folie and Russian River's Supplication as well as Cantillon and Drie Fortienen (when you can find them).
Which craft beers do you recommend for someone new to beer?
Belgian Wits, wheat ales, browns and ambers, offer a lot of flavor but not too much for a new palate to handle.
How much does craft beer cost?
A great craft beer 6-pack averages around $9.
How can I learn more about craft beer?
Join us in the store for weekly craft beer tastings in Denver on Friday afternoons, from 3-6. You can also ask some of our knowledgeable beer staff questions if you have any.
What happened in the craft beer market in 2014?
I would say people's tastes in beer styles have definitely changed. Ciders were the fastest growing category. But sales of IPA's were still up. Session beers (low alcohol IPAs and pale ales) were a big trend. And sours / wild ales really caught on.
Do you care to speculate on beer trends for 2015?
I think a lot of brewers are going to start or continue experimenting with the sour / wild ale category. The Gose style started making a pretty big come back towards the end of 2014, so I think that will continue. I also see a lot more brewers continuing to brew "outside the box" so to speak, and trying to come up with more unique crossover styles. People are growing more open to trying different things.
Do you have any new craft beer favorites?
I like everything I've tried from Perennial Brewing and Evil Twin Brewing as of late. Both offer a great line beers!